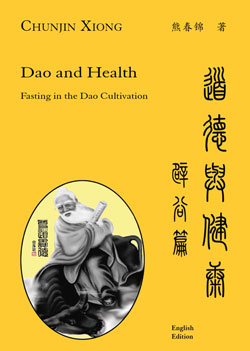 Chunjin Xiong
Dao and health - fasting in the dao cultivation
in English edition, 180 pages, illustrated
ISBN 978-3-9817428-3-1
Retail price € 20,00 excl. shipping and. packaging costs
Only payment in advance!
Bank details:
Deutsche Bank AG Berlin
Account holder: Dao Akademie gGmbH
IBAN: DE65100700240012197001
BIC/SWIFT-Code: DEUTDEDBBER
Content
The new volume of the book series "Dao and Health" teaches the reader about "Fasting in the Dao Cultivation". Step by step and with numerous examples, the reader is introduced to the theoretical foundations of BiGu, a fasting technique based on the ancient, original Huang-Lao cultivation teachings. Besides the history of the fasting system and the effects of different diets on the human body, the development of the modern human nutritional requirements and the different phases of degeneration are examined. The comprehensive results of the previous publications enable an intuitive and easy access to the secrets of Ancient China. This volume takes up many familiar concepts again, explores them further, and breathes life into them using various application examples. The detailed explanations of well-known and new principles offer new perspectives on the image of the human body. The volume Fasting in the Dao Cultivation explains the development of diet-related diseases on the energetic level, as well as on the visual level. Furthermore, it describes the fasting system within the context of health promotion and inner cultivation. This book serves as a guide to detect the dangers and risks of incorrect fasting and it connects modern physiological knowledge with the wisdom of ancient texts. Thus, students, persons interested and cultivators alike gain insight into the great world of Bigu.
The author
Chunjin Xiong is one of today's best-known Dao grandmasters. Besides his extensive journalistic work, he has been teaching the traditional methods of Dao and continuing the original teachings of Laozi for 30 years. Chunjin Xiong was born into a family with a long Daoistic tradition. Even as a child, he grew up learning about the method and healing power of Dao. Later, he studied western medicine, was Chief Physician of orthopedics and surgery, and became Hospital Director in Wuhan (China). In 1993, he established an educational institute for rehabilitative medicine and life care. He also opened the "Europäisch-Chinesische Qi-Gong-Institut" (European-Chinese Qi-Gong Institute) in Berlin in 2001, as well as the "Laozi-Dao Zentrum Berlin e.V." (Laozi-Dao Center Berlin) in 2004. The establishment of the charitable "Dao Foundation" took place in 2010; the "Laozi Dao Akademie gGmbH" (Laozi Dao Academy) in Berlin was founded one year later.